Andrews Blog Page for January, 2007
| Andrews Education & Research New Home Page | AndrewsBlogHomePage | January 2005 | February 2005 | March 2005 | April 2005 | May 2005 | June 2005 | July 2005 | August 2005 | September 2005 | October 2005 | November 2005 | December 2005 | January 2006 | February 2006 | March 2006 | April 2006 | May 2006 | June 2006 | July 2006 | August 2006 | September 2006 | October 2006 | November 2006 | December 2006 | February 2007 | March 2007 | April 2007 | May 2007 | June 2007 | July 2007 | August 2007 | September 2007 | October 2007 | November 2007 | December 2007 | January 2008 | February 2008 | March 2008 | April 2008 | May 2008 | June 2008 | July 2008 | August 2008 | September 2008 | October 2008 | November 2008 | December 2008 | January 2009 | Archives |
---
• BibleArticles • Bible Stuff • Bible Teachers • BigMan • BigValleyGrace • Birding • Blogs • Celebrate Recovery • Christian Adventures • Christian Music • Clubs-Events-Forums • Computers • Creation Evidence • Creationism •

Dara's Home Page • Devotions • Education • Family History • Firestream • Favorite Books • InternetRadio • Lenny's Music Page • LittleEmo • Music • MySpace • MySpaceBlogs • Natural History • PaulHarvey • Poems • Rock4Jesus • Travels •
---
• Andrews Family History • Andrews Genealogy • Andrews Unknown Pictures Page One • Andrews Unknown Pictures Page Two • Shipley Diary • Shipley - Lincoln Connection • Surnames links •

Please take a look at my unknown pictures pages. I'm hoping that somebody will recognize someone in the pictures and help to identify some of the unknown people/pictures, and connect with other cousins and interested researchers. Thanks!
---
Monday, January 1, 2007

-- Reflections on the past ......



FACTS ....

-- May 12th, 2005, the moon did not set! -- Oldest living person --

Last night went to church for the New Year party. Our friend Kurt went with us. We played about five games of dominoes, then Benny decided to join the table playing Uno for about three hours! Kurt and I joined another table where they were playing dominoes. I played for about one hour, then decided to concentrate on the movie, "The Chronicles of Narnia." That was the first time I've ever watched the entire movie.
Dara and Donnie went to the all-night youth event at Shelter Cove. They had fun playing lots of games. They are both still sleeping, and it's nearly 2:00 p.m.


Daily Devotion

-- Reading from "Our Daily Bread," the theme is "Slow Down And Live." I've been pondering this profound idea of slowing down for quite some time, and I'm still working on trying to slow down, smell the roses, enjoy the little things in life, take more time to spend with my children and friends, and do take a step, or even a leap, of faith, and even do things may seem a bit radical.



Scripture for today:

Proverbs 4:23, "Above all else, guard your heart, for it is the wellspring of life."


Psalm 1:2

, "But his delight is in the law of the Lord, and on his law he meditates day and night."


Psalm 143:1

, "Lord, hear my prayer, listen to my cry for mercy; in your faithfulness and righteousness come to my relief.


Psalm 46:1

, "God is our refuge and strength, an ever-present help in trouble."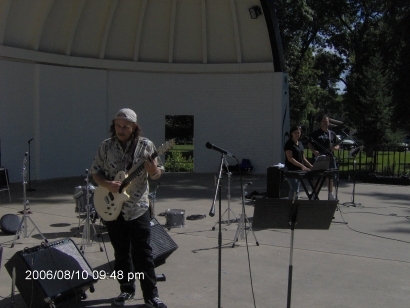 Left: Michael and Dara at Celebrate Recovery, Big Valley Grace
Right: Michael playing with the recovery band at the park, summer, 2006



Left: Michael taking a break to enjoy the Celebrate Recovery events of the day
Right: Michael joining in with other believers to worship the Lord

Currently listening to (Click the image to listen to John Michael Talbot) --


• Listen to John Michael Talbot
• John Michael Talbot Bio (CrossmapLyrics)
• John Michael Talbot (OfficialWebsite)
•










---
Tuesday, January 2, 2007

-- Another night at Celebrate Recovery. They band played tonight for the first time in about three weeks. Just didn't sound the same without Michael playing guitar ....... One of the ladies who has been involved with the youth ministry gave her testimony. She will be moving to Texas soon. We will miss her .....
I've been having problems with my webpages. Can't figure out what the problem is ..... The trouble I'm having is uploading images. I've tried creating subdirectories, but the images in the subdirectories don't show up on my webpages. I have to upload the images into the main directory instead, at least for this particular webpage. Images on other webpages show up just fine, even when uploaded from subdirectories. Hmmm ... This is really irritating ......
Wow .... !!! Praise the Lord!!! I figured out the solution. I need to place the image folders into the same folder with the webpages that are connected to those images. Makes sense, I guess. I had to go back and look at older webpages and the folders with images on those webpages, and study the pattern of heirarchy to figure out where to place the image folders. If you can understand that .... well ..... I guess you can do my webpages for me!! Want to be my webmaster? Just let me know: <<<...JimmieNeutron "underscore" 57 "at" hotmail "dot" com...>>>

Another new webpage I've created -- Stories --



Questions ...

-- 1) Who wrote the book of Psalms? (Hint: more than two authors) -- E-mail your answers/questions<<<...JimmieNeutron "underscore" 57 "at" hotmail "dot" com...>>>



Friday, January 5, 2007

-- Last night was very windy, couldn't sleep well. Just read today's devotion in Our Daily Bread, "The Walking Purchase." The story is about William Penn, who was a benevolent Quaker who dealt fairly with the Native Americans. His sons did not share their father's integrity and cheated the Indians. Scripture for today is Matthew 23:23, "... You have neglected the more important matters of the law -- justice, mercy and faithfulness."
Been working on my new website. Last night I was showing Dara how to work on his website. Here is our new website address: Hangin' Wit' Da' Big Man -- Dara's website is -- Rockin' 4 Jesus --



Bible Teachers ...

-- Dr.R.C.Sproul (audio files) -- DrR.C.Sproul (LegonierMinistries) -- DrR.C.Sproul (PreteristArchive) -- DavidSeifert (audio teachings) -- GregLaurie (audio) -- JohnMacArthur (audio) -- DrAdrianRogers (audio) -- DrDavidJeremiah (audio) -- SteveBrown -- Dr.D.JamesKennedy --


Christian Tools

-- PreteristArchive -- Crosswalk.com -- BibleGateway -- ChristianityToday -- ChristianClassicsEtherealLibrary -- VirtualChristianCenter -- ChristianAnswers.Net -- GibsonFamilyChristianResource -- BlueLetterBible -- UnboundBible -- AudioBible -- NewKingJamesAudio -- BibleStudyTools --



Friday, January 12, 2007

-- Another good night at Celebrate Recovery. I always look forward to Celebrate Recovery On Tuesday at Big Valley and Friday at Shelter Cove. When I'm feeling down, I know that Celebrate Recovery will lift me up .... fellowship with other believers, worship, and good teaching, are all healing to the soul .......
Benny has his friend staying with us. They are having fun playing. The temperature has been in the 20s for the past several days. It doesn't really bother me that much. I've been riding my mountain bike to work and church, and I have to dress much warmer that if I was just walking about. Dara is staying with one of his friends. It's nice to have some quiet time .....
I'm listening to Michael Card and John Michael Talbot, "Brother To Brother," two of my favorite musicians. Their music is uplifting, encouraging, relaxing ........ Check out the links above (with the image of one of Talbot's albums), or below under "Music."


Saturday, January 13, 2007

-- Ben's friend, Mathew, is spending the night with us. We all went to Big Valley Grace for the Celebration service. Last night I continued reading "The Pilgrim's Progress," by John Bunyan. Christian ran into Evangilist again. Christian was deceived by Mr. Worldy Wisdom and Mr. Legality, and had started up the mountain, which turned out to be a curse instead of help. So now Christian is back on the right road again. Christian made it to the Gate, which is where I stopped reading. Stay tuned for more ....


Sunday, January 14, 2007

-- A -- My cousin Julia is working on a mural project ..... You can check it out here -- Mural Project --



Reading ...

-- "LaLegion," by Geoffrey Bogga -- "Pilgrim'sProgress," by John Bunyan -- FridayEveningObservantJewishHome -- BlessingTheChildren -- ApologeticsPress:SensibleScience -- Tenants'Rights (FindLaw) -- CaliforniaTenantLaw -- Landlord-TenantSanFrancisco -- Chiff.com (Eviction Law, Tenants & Landlord Rights, Tips, Information & Advice) -- Landlord&TenantCommunityMessageBoards -- Repairs (CaliforniaTenantLaw) -- WhatAreYourRights? (CaliforniaTenantLaw) -- BadLandlordsForum -- CaliforniaRenter'sRights -- General Tenant Rights (CaliforniaTenantLaw) -- CaliforniaTenantLawRights -- CaliforniaRentersRights.org -- RentersRights.org --



Tuesday, January 30, 2007

-- Home sick again with the aweful stomach flu. Haven't been this sick in a long time .... About ten days ago, Benny got a bike for his birthday. Had to return it, then pick up another bike from Target. We've been out riding around together.



Cool Stuff ...

-- BibleManuscriptsImages -- OnlineGallery (BritishLibrary) -- ChristianApologeticsAudioVideo --



More Links ...

-- Kara's Poetry -- MedlinePlus --



Music ...

-- SteveTaylor (ChristianityToday) -- MichaelCard (OfficialWebsite) -- MichaelCard (Bio) -- MichaelCardBio (ChristianityToday) -- MichaelCardInterview (ChristianityToday) -- JohnMichaelTalbot (OfficialWebsite) -- JohnMichaelTalbot (Interveiw - Conception Abbey) -- JohnMichaelTalbot (Wikipedia) --



News ...

-- Chandy & Terry Indula Torture Two Children (Latest update, January 12, 2007) -- ModestoBee --



Christian Links ...

-- ChristianAnswers.Net -- CARM (ChristianApologetics&ResearchMinistry) -- HarvestChristianFellowship -- TurningPoint -- LoveWorthFinding -- GraceToYou -- BibleAnswerMan (OnePlace) -- BibleAnswerMan (Equip.org) -- ThruTheBible (OnePlace) -- ThruTheBible -- KeyLife -- TruthsThatTransform (CoralRidgeMinistries) --



My Favorite Songs ...

-- "I Am Free," Newsboys -- "Burn For You," Toby Mac -- Am I In Sync," "I Just Wanna Know!," "On The Fritz!," by Steve Taylor -- "Life Song," ? --



My Favorite Books ...

-- the Bible -- "Robotech," by Jack McKinney -- "Pilgrim'sProgress," by John Bunyan -- "TheLostWorld," by ... -- "EarthInUpheaval," by Immanuel Velikovsky -- "HudsonTaylor'sSpiritualSecret," by Dr. & Mrs. Howard Taylor -- "AnointedForBurial," by Todd & DeAnn Burke -- "UnlockingTheMysteriesOfCreation," by DennisR.Petersen -- "EvidenceThatDemandsAVerdict," by Josh McDowell --



InternetRadio ...

-- L-LOVE (Great Christian radio and news) -- PaulHarveyPodcast (1/16/07 mid-day) -- KRMG (listen to news, including Paul Harvey) -- PodcastBunker (NPR, Paul Harvey, and more) -- PaulHarveyPodcastsList (works with Safari, not Camino) --



Warning ...

-- Word of Faith vs. Orthodox Beliefs -- LowerYourBloodPressureNaturally (Intelihealth) -- CureAcidRelux (EarthClinic) -- LowerHighBloodPressureNaturally (EarthClinic) -- GettingTheHighOutOfHighBloodPressureNaturally (MaxHealth) --



Forums

.... -- HealthBoards --

Some poems of mine, several I'm still working on .....

February 13, 2006, Monday -- My Valentine Day poem:

From on high You shine,
With the biggest heart.
You're the lily of the valley,
The rose of Sharon.

Your love is great,
Your love is true.
Your love is deeper
Than the ocean blue.

Precious Jesus,
Come into my heart and shine.
Master, Lord, Savior,
Be my Valentine.
+++++++++++++++++++++++
Violets in the meadow
bluebells in the woods
daisies in the garden
roses in the vase.

Trees bending in the wind
branches crackling
leaves floating
colors dancing.

Springtime is near
birds are singing
blossoms are blazing
colors are on fire.

The bees are busy
buds are bursting
flowers are popping
springtime is hear!

-- by Vern James Andrews, Jr.
-- Thursday, February 16, 2006
++++++++++++++++++++++++++
When life hurts
Waves tempest tossed
Reach out your hand
God is there

Holy Spirit
Heal me now
Your breath I feel
I know you are real

My heart is broken
My mind is weak
You are my strength
O God

So many scars
Pain and suffering
Years of wandering
My heart is torn

Father, take me now
Heal me now
Holy Spirit
Wash me, cleanse me


BeholdNowTheKingdom.m4a

---
You are visitor #
.................Office Supplies
If you have any links you would like to see on my website, or want to report any bad links, contact the >> Webmaster
Andrews Blogpages first created Thursday, July 21, 2005 ~ This webpage last updated Friday, January 12, 2007
Andrews Research & Education website ALWAYS UNDER CONSTRUCTION ! visit again soon ! Thanks !