Andrews Blog Page for July, 2008
| Andrews Education & Research New Home Page | AndrewsBlogHomePage | January 2005 | February 2005 | March 2005 | April 2005 | May 2005 | June 2005 | July 2005 | August 2005 | September 2005 | October 2005 | November 2005 | December 2005 | January 2006 | February 2006 | March 2006 | April 2006 | May 2006 | June 2006 | July 2006 | August 2006 | September 2006 | October 2006 | November 2006 | January 2007 | February 2007 | March 2007 | April 2007 | May 2007 | June 2007 | July 2007 | August 2007 | September 2007 | October 2007 | November 2007 | December 2007 | January 2008 | February 2008 | March 2008 | April 2008 | May 2008 | June 2008 | July 2008 | August 2008 | September 2008 | October 2008 | November 2008 | December 2008 | January 2009 | Archives |

---
My fall/winter garden (October/November), 2007 -- Left, large leaves are mustard greens. Front left you can see kale (dark, long, slender leaves) -- Right, look at the size of those mustard greed leaves! Look carefully, and you will notice beet greens on the right, turnip greens on the upper left, spinach lower left, swiss chard lower right.


Fall/Winter garden, October 26, 2007 -- Left, peppers and tomatoes -- Right, squash



Monday, July 14, 2008 -- My summer garden, taken June 14, 2008 -- Far right, watermellon, peppers in front. tomato far left.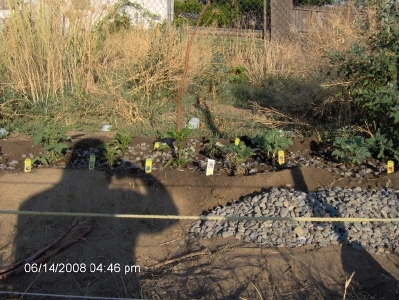 Taken July 14th, 2008 (time stamp in incorrect) -- Left: Back center, cucumber, front center zucchini squash, left tomato -- Right: melons, tomato, pepper


July14th, 2008 -- Center serano pepper, right tomato, back zucchini squash, front peppers


July 14th, 2008 -- Upper left cucumber -- Look closely and you will see lots of baby onions. I allowed my entire fall/winter garden to go to seed, and lots of volunteers are coming up everywhere!


July 14th, 2008 -- Upper right, notice the onions that have gone to seed. There must be at least one hundred onion plants that have gone to seed all around the garden! Baby onions just started coming up about 7-10 days ago. I had to sprinkle coco bean mulch around, to keep out the neighbor's cats.


July 14th, 2008 -- Back center, what is left of my collard greens and kale. There is still enough greens to pick, even in this triple-digit weather!! Behind the collard greens and kale is swiss chard that has recently started growing on its own.


July 14th, 2008 -- Back center, closer view of kale, which is still good to eat! The kale seems to be very hardy ... grows well in the fall, winter, and even in the summer heat with triple-digit temperatures!!! Front, melons, cucumbers, peppers.


July 14th, 2008 -- Far right onions gone to seed. Most of the seed has scatterd, and the baby onions are popping up all over the place.


July 14th2008 -- Center, peppers, front tomato


July 14th2008 -- Notice the radishes in front. I let everything go to seed from fall/winter, and volunteers are popping up everywhere!! Center, melons, peppers.


July 14th, 2008 -- Lower center, you can see clearly lots of radishes, and probably other plants coming up from plants that went to seed.


July 14th, 2008 -- Squash, melon, cucumber, tomatoes, peppers, onions.


July 14th, 2008 -- Left: Squash, melon, cucumber -- Right, June 14th, 2008, just planted summer garden .....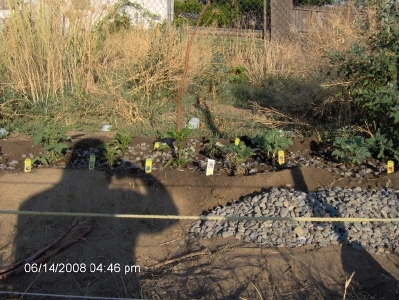 Here is a view of the same area (above right) taken exactly one month later, July 14, 2008 -- far right watermelon, far left peppers, and in the back-middle I believe are several cucumber plants, front center should be a zucchini squash

Scripture for today:

James 1:2-3 , "My brethren, count it all joy when you fall into various trials, knowing that the testing of your faith produces patience."


Psalm 121:1-2

, "I will lift up my eyes to the hills -- From whence comes my help? My help comes from the Lord, who made heaven and earth."






---
You are visitor #
Bridal Registry
If you have any links you would like to see on my website, or want to report any bad links, contact the >> Webmaster
Andrews Blogpage first created Thursday, July 21, 2005 ~ This webpage last updated Tuesday, July 15, 2008
Andrews Research & Education website ALWAYS UNDER CONSTRUCTION ! visit again soon ! Thanks !