Andrews Blog Page for January, 2006
| Andrews Education & Research New Home Page | AndrewsBlogHomePage | January 2005 | February 2005 | March 2005 | April 2005 | May 2005 | June 2005 | July 2005 | August 2005 | September 2005 | October 2005 | November 2005 | December 2005 | February 2006 | March 2006 | April 2006 | May 2006 | June 2006 | July 2006 | August 2006 | September 2006 | October 2006 | November 2006 | December 2006 | January 2007 | Archives |
---
Missions Celebration Big Valley Grace -- 2006
---
Sunday, January 1 , 2006

-- I made 5th place on Firestream for the month of December. Called Terry Hill. Haven't spoken with him for probably 22 years! He remarried, after his first wife Sue died in the terrorist attack in 2001. The terrorists destroyed the plane she was on. Terry has been working as a police officer for the past 20 years. He leads a small bible study group of about 15 people.



Monday,

January 2

, 2006

-- Started studying about the aspostle Paul in the Bible. Mother called me and was complaining about Dara. It seems that it was a big mistake to send Dara up there to be with his grandmother. Weather has been very wet for the past several weeks. I always look forward to the wind and rain. I can breathe so much better.



Scripture for today:

1 John 5:7, "For there are three who bear witness in heaven: the Father, the Word, and the Holy Spirit; and these three are one." Notice that this scripture does not say there is 'one,' who manifests as three, but rather there are 'three' who manifests as one.

John 6:47, "Most assuredly, I say to you, he who believes in Me has everlasting life."

John 10:28, "And I give them eternal life, and they shall never perish; neither shall anyone snatch them out of My hand."




Wednesday, January 4, 2006

-- Yesterday mother really flipped out! She is harassing Dara nonstop. The police went out to mother's three times! This morning they wanted to make sure that Dara got off safely with Paul. Paul took Dara to stay with him. Paul and his wife are staying at his son's in Scappoose. Dara had a good time at Paul's. We commuticated via PM on Firestream.



Thursday-Friday, January 5-6, 2006

-- Paul took Dara to the Greyhound Bus station at Portland, so he could catch the 1:00 bus. Benny and daddy picked up Dara Friday morning. If was so foggy that we got lost driving around trying to find Dara. We're all glad to have you back home Dara! Dara enjoyed the bus ride. He had to transfer because they changed the bus schedule. Dara met an old classmate from the 4th grade at Agness Baptist. She recognized Dara's name, and then he remembered her.

Somebody on one of the forums was asking about the band P.O.D. Here are several links to find out more:

Here is an interview with Wuv.

Here is a discussion concerning P.O.D.

Here are some links to Celebrate Recovery:

• U.S. regional areas
• Global locations
• http://www.celebraterecovery.com/index.asp
• Australia Celebrate Recovery
• Edgewood Baptist Celebrate Recovery
• Saddleback Family Celebrate Recovery
• http://www.fpcberkeley.org/celebrate_recovery.asp
• http://www.celebraterecovery.ca/

Monday, January 9, 2006 -- I'm putting up these pictures of Christmas lights in my January blog because my December blog page has so many pictures already. I was surprised that some of the pictures came out so nice. It is really difficult to get good pictures at night with my digital camera. I really need a tripod to hold the camera still. The slightest movement causes the image to blur.

Benjamin is posing in front of several Christmas scenes. It was hard for Benjamin to take a picture of me. He doesn't know how to hold the camera still yet. He did get one shot of me that is ok.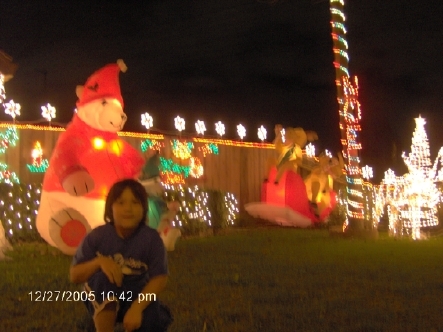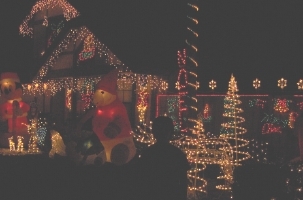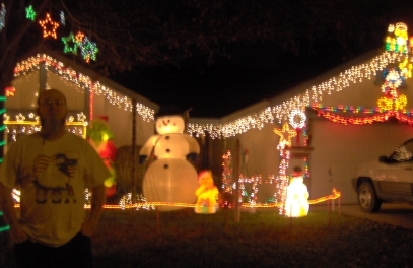 Above shots were taken on a very windy day. It really doesn't look like the wind was blowing that much, from the pictures, but believe me, the wind was strong for our area, maybe 35-40mph.

Tuesday-Wednesday, January 10-11, 2006 -- I noticed my cactus outside are blooming again! I've never had so many cactus plants blooming before! Spider plants are doing so well, I will need to repot them soon. Had another great time at Celebrate Recovery last night. The place was packed. If our meetings keep growing, we'll have to meet in the sanctuary. Worship time was aweseom, as usual. Greg gave his testimony. Pastor Bobby Fisher was visiting Celebrate Recovery for the first time.

Here are some birthday pictures for Benny's 9th birthday.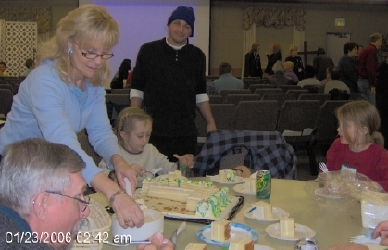 Celebrate Recovery (1/24/06) - Left: Paul and Ben - Middle: Lonnie cutting the cake, Paul with cap -- Right: Ben with presents at home.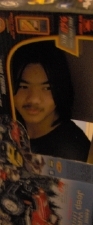 Celebrate Recovery (1/24/06) - Left: Scott, Julie, Ben - 2nd: __ and Ben - 3rd: Ben with friends - 4th: Dara being funny at home.



Tuesday, January 31, 2006

-- Kurt went to Celebrate Recovery with us. Had another great night of food, Bible teaching and fellowship. Lonnie invited us over for dinner. God has blessed us with so many good friends at church. The men's group was a good time of sharing.
---
You are visitor #
Staples.com Coupons
Codes
If you have any links you would like to see on my website, or want to report any bad links, contact the >> Webmaster

Andrews Blogpage first created Thursday, July 21, 2005 ~ This webpage last updated Wednesday, February 2, 2006

Andrews Research & Education website ALWAYS UNDER CONSTRUCTION ! visit again soon ! Thanks !